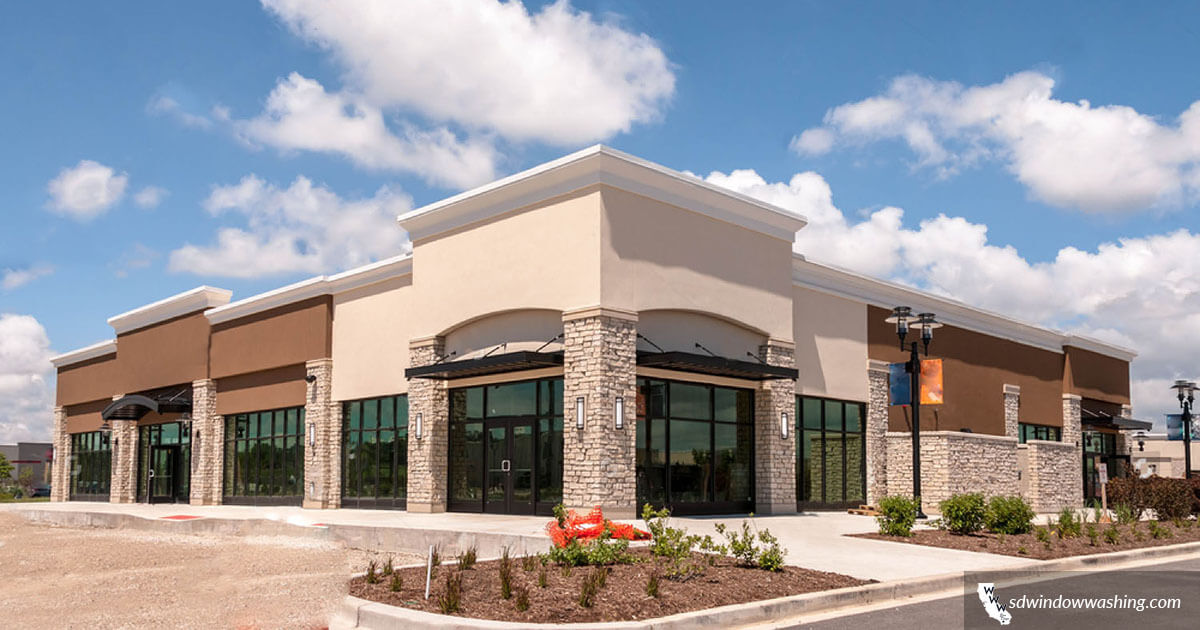 Storefront window cleaning enhances your business curb appeal. It's true you shouldn't judge a book by its cover. But, when it comes to storefront customers, they are wondering whether they should step inside. Potential customers are more apt to come inside if your storefront window cleaning is maintained.
Studies show that curb appeal contributes to retail real estate values. It can increase rents for office buildings and sale prices for restaurants. And a big part of curb appeal is windows. If how your business looks is turning customers away, storefront window cleaning in San Diego could be just what you need.
Storefront Window Cleaning San Diego
Don't let dirty windows and lack of signage drive potential customers away. Here are 4 ways clean windows increase curb appeal and encourages in-store traffic.
1. SHOWCASES YOUR PRODUCTS IN AN INVITING WAY
Dirty windows can actually cast a shadow on your business. Inside the store, your interior will seem gloomy. No doubt, this will effect customer's mood if you've managed to get them inside in spite of having dirty windows.
Mostly, retail stores rely heavily on attracting foot traffic. And if you've setup beautiful product displays, dirty windows ruins your hard work because they can't be seen.
2. CLEAN WINDOWS EXUDES PROFESSIONALISM
Whether you're selling products or not, dirty windows discourages customers from stepping inside. If your business provides services, dirty windows signal customers that you're not professionals. Additionally, they may feel that you will give the same lack of attention to services rendered.
As the saying goes, it's the little things that matter the most.
3. LOOK LIKE YOU'RE OPEN FOR BUSINESS
Does the lack of storefront window cleaning make your business appear that it's closed when it's not? A commercial window cleaning in San Diego can change that creating a more attractive environment.
And from a practical standpoint, clean windows allow customers to see your store hours, phone number, promotions, and more. You know? The important information they need to contact your business or make a purchase.
4. A GREAT IN-STORE ATMOSPHERE INCREASES CUSTOMER SPENDING
In addition to clean windows providing attractive curb appeal, you're also improving customers' feelings in your store. Research shows that customers in a good mood are known to spend more time and money in stores.
For the best storefront window cleaning, contact West Coast Window Washing; the professional commercial window cleaning company in San Diego.
You may also enjoy reading: Protect Your Home From Foundation Cracks