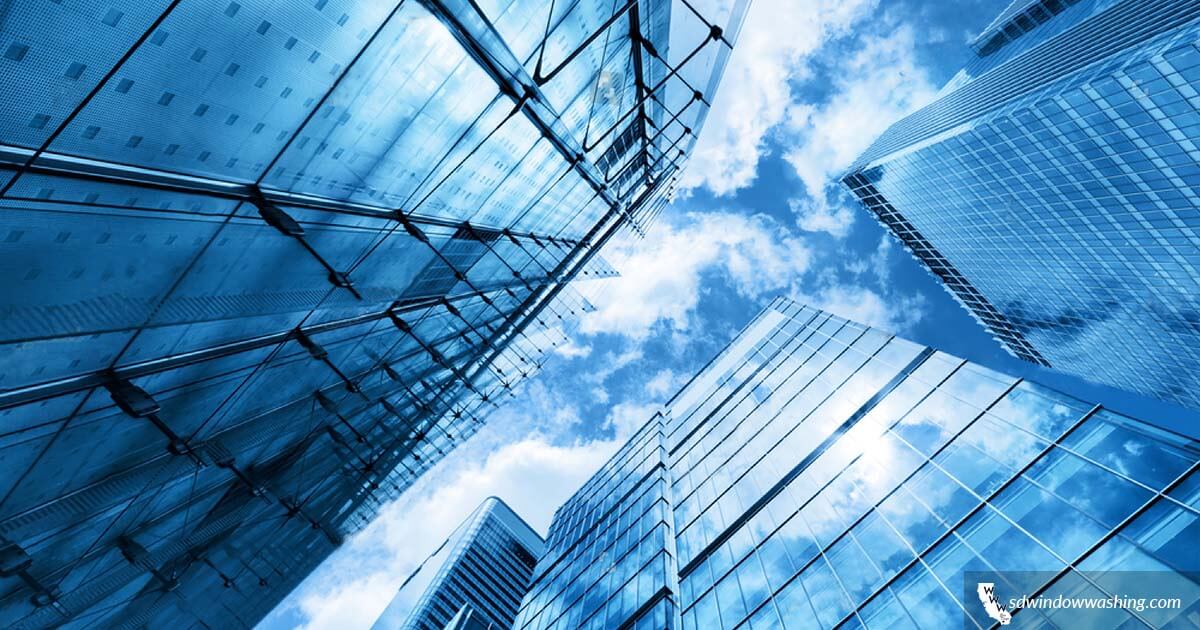 Clean high-rise building windows are necessary to retaining your awesome view and natural sunlight.
The best thing about living or working in a high-rise building is the amazing view from that height. But if your building is in a city, your windows won't stay clean for long. Pollution, pollen, and bird droppings can dull, streak, and obscure your view. Then the natural light your windows offer is reduced.
However, keeping those windows clean is not an easy task. Trying to use soapy water, a bucket, ladder, and squeegee alone is futile. Especially when your office is on the 20th floor. But to maintain your reputation and property value, you must clean high-rise building windows.
The best way to get the job done right is to hire professional high-rise window cleaners. They have the techniques and knowledge to ensure that your windows look spotless. Even in areas that are difficult to reach.
Most people never think about what goes into high-rise window clean. And some people think that it just involves using a tall ladder. In this article, we'll briefly discuss a number of techniques used to properly get the job done.
And like all good high-rise window cleaners should, we're work from top down:
ROPE ACCESS
Can you imagine cleaning the windows of a building like One America Plaza? It's the tallest building in San Diego standing at 500 feet. It would be pretty difficult, if not impossible to clean without using a method like rope access. This method of window cleaning is the go-to for high-rises or hard to reach windows.
Also, it has the bonus of being less disruptive to people below because there's no machine noise; just ropes. On a side note, the views from the outside of a building at that height is amazing!
MOBILE ELEVATING WORK PLATFORM
This is a straightforward mechanical device used for mid-level high-rise or fragile glass roofs cleaning. Generally, it's used when rope access or water fed poles don't provide proper reach.
There are different tire and fuel options available to ensure windows aren't cleaned at the expense of the floor.
WATER FED POLES
This method used to clean high-rise building windows has been a real game changer. It can reach heights of up to 80 feet. So, it can be used on low to mid-level high-rise buildings.
The best thing about the water fed pole method is that it keeps windows cleaner longer. It does so by using warm, 100% our water. In fact, no chemical are used. So, it's also environmentally friendly.
The associated risk involved with climbing is also eliminated. Water is pumped through a telescopic pole from the ground up. Because of excellent results, health & safety benefits, this is often our go-to cleaning method.
TRADITIONAL WINDOW CLEANING
While this method is not realistic to clean high-rise building windows, it's worth mentioning. But it's used less often because the water fed pole system is so efficient. However, there is still occasionally a call to use cleaning accessories, buckets, and ladders on lower level windows. Oftentimes, it provides the best finish at this level.
At West Coast Window Washing San Diego, we have the training and experience needed to ensure a sparkling outcome. If you would like a quote for high-rise window cleaning on your building, call us today at (858) 213-5736.
You may also enjoy reading: Winter Pressure Washing San Diego