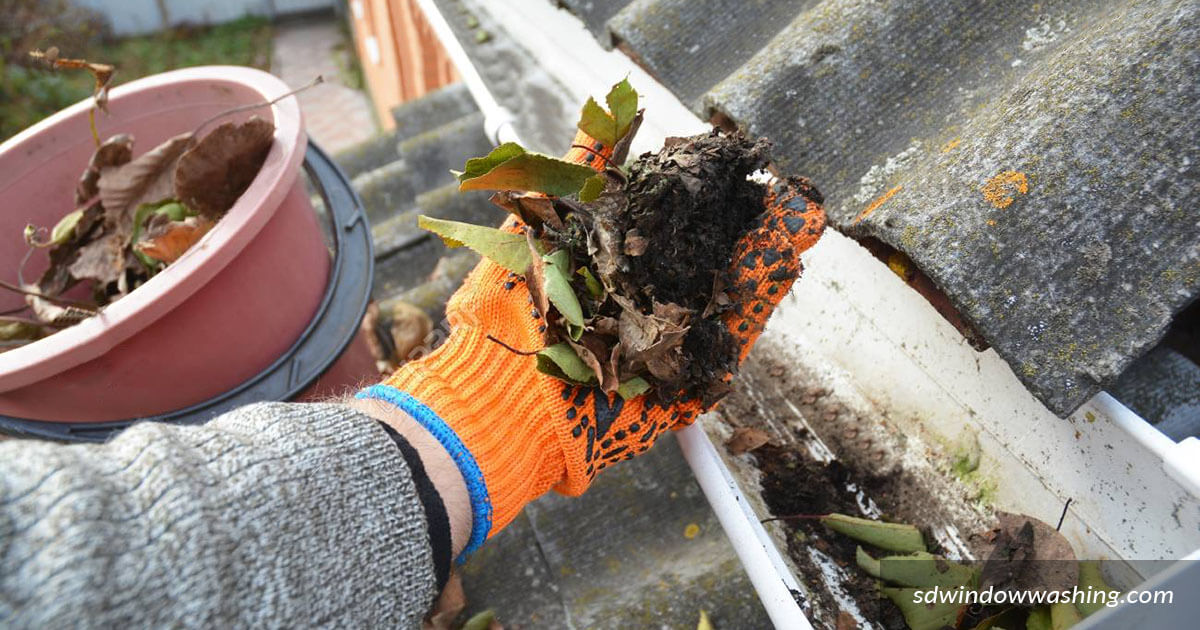 West Coast Window Washing are specialist rain gutter cleaning experts. Our rain gutter cleaning services are available to a large number of homes and businesses in San Diego. Our team is always available to help you.
Have you ever had a company clean your gutters with a pressure washer? Horrible method isn't it? Actually, it takes longer to clean up the mess than to clean the rain gutters! No worries with West Coast Window Washing, we don't use pressure washers.
Plus, if requested, we can provide video or photo documentation to show the gutters before and after cleaning.
Also, a detailed rain gutter inspection report of your system. This report will indicate what we found and how we solved the problem. This way you don't need to climb up that ladder after a long day at work. You know it's done, and done right.
And, the best part is that there's absolutely zero mess to clean up because pressure washers are NOT used.
When the gutters are more than two floors from the ground, our operators work from the safety of the ground. We use a specialized system to clear out your gutters. With our system we can reach previously inaccessible areas with ease. And when the job requires more conventional forms of access, our operators can do that also. This is particularly useful in many high houses in San Diego where access is difficult.
Our residential Gutter cleaning is done quickly and efficiently. If you call us for gutter cleaning service, our goal is to be there in less than a week. The guttering system is cleaned, the downspout is unblocked. As an additional service, we can clean the soffits and fascias for you as well.
We also provide a commercial gutter cleaning services. Our team clean gutters for hotels, schools, shops, churches, office buildings, and more.
Why Rain Gutter Cleaning Services is Important to Your Property
Gutters direct rainfall away from buildings to protect the outer skin of the property as well as the foundations. If there is a problem with the gutters it can cause water damage to your property. Gutters are an important part of your home's weather proofing and water proofing system.
Blocked gutters can become heavy from the extra weight of dirt and water. This can cause your guttering to pull away from your fascias. And, in some cases fall from the house completely. Leaking gutters or water overflowing from blocked gutters can run down walls causing them to become damp.
Restricted gutters prevent water draining away from your house which can seep into your property's foundation. Gutter cleaning helps avoid costly repairs and roof damage. Gutter systems should be ideally thoroughly cleaned twice a year.
If you would like us to quote for any gutter clearing, please call us (858) 213-5736 or get in touch online for an estimate.
You may also enjoy reading: The 'Reach & Wash' Pole System Window Cleaning Method