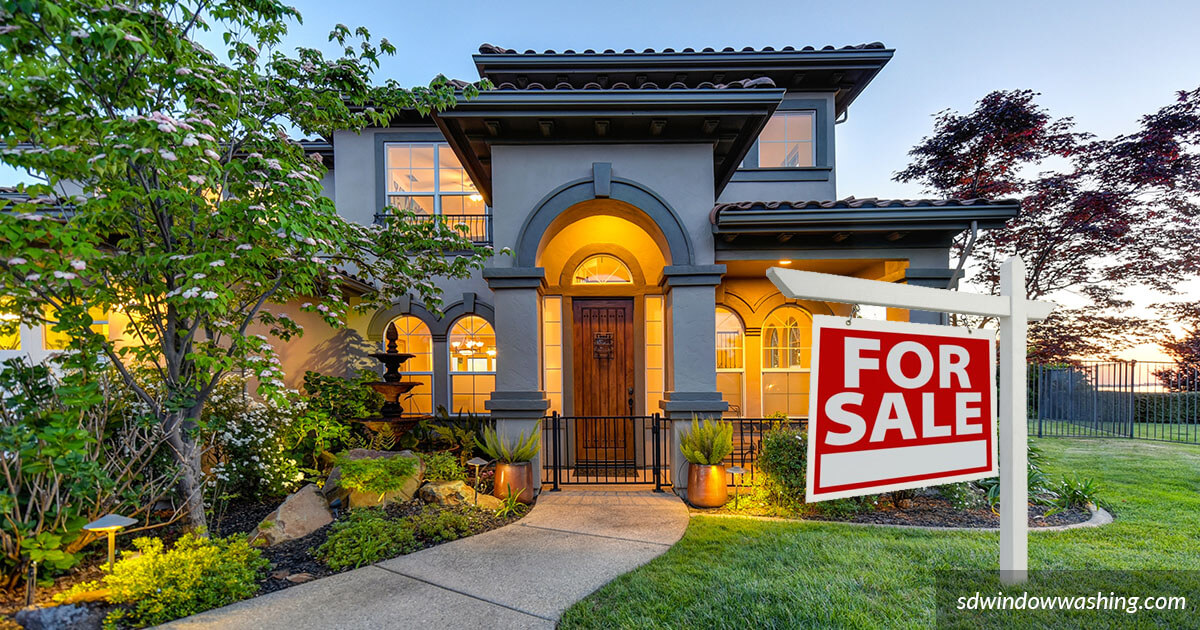 Window cleaning services can improve your home resale value. Are you considering putting your home on the market this season? Make sure that you get the most for your home by increasing its resale value.
The purpose of this article is to give some statistics about home improvements for increasing the value of your home. We are also going to explore why cleaning will give you the biggest bang for your buck.
Window Cleaning Services
We all know how important first impressions are. When a potential buyer looks at your home, before stepping foot inside, they're already looking for something to scrutinize. Don't give them an excuse to not offer you the full value of your home. There's a saying, "what the mind believes it will achieve". If someone thinks your windows aren't clean, they may conclude the entire house is not maintained. Therefore, they will offer you less than what your house is worth because of its cleanliness.
Give your house a little spa day by getting a soft wash for your roof, siding or driveway and patio. After that, make sure you get your windows and gutters cleaned. Cut the grass and trim up those hedges, and lay some fresh mulch too.
Next, move on to the inside. Natural light into your home can be warm and inviting. Be sure to include interior window cleaning services to your list. If you have carpet, hire a professional carpet cleaner to give those rugs a fresh look and smell.
Cleaning can be the least expensive part, but will provide the biggest return for your investment. Getting your windows cleaned and other areas is important, and it really does pay off.
According to Money Magazine, here is the best return on investment (ROI) when selling a home.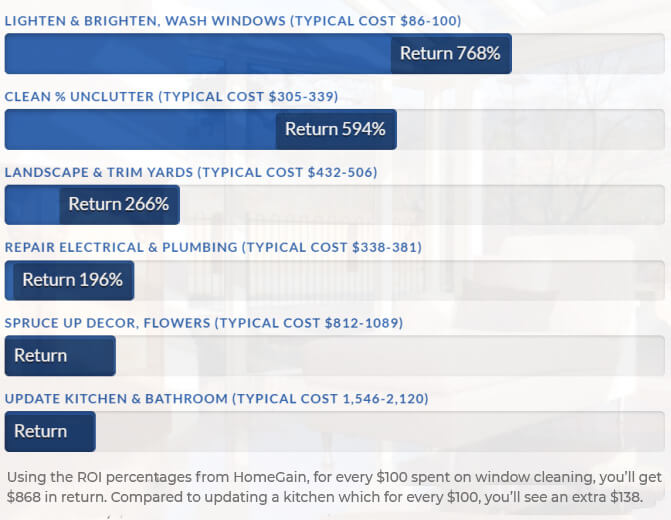 Kitchen Renovations
Between eating and meal preparation, the kitchen is one of the most lived in rooms of your home. Since so much time is enjoyed in the kitchen, potential buyers are going to be looking closely at it. They will look at cupboard layout, countertops, and overall functionality. It's common for many to overspend on kitchen renovations.
The average kitchen renovation can cost anywhere from $12,000 to $30,000, depending on your taste and kitchen size. However, statistics show that you only get 80% back from renovation cost. Now, compared to most other renovations, that's actually a good return. But, you can do better.
Bathroom Renovations
As in the case of the kitchen, lots of time is spent in the bathroom. It's a room where cleanliness and functionality is greatly appreciated. This is also an area that you can go overboard on renovation costs. On average, people spend $3,000 to $7,000 and that doesn't include a master bathroom. Those can cost upwards of $12,000 or more to renovate. Sadly, bathroom renovations have only seen a 50-60% return rate. Unfortunately, that's not impressive considering other more valuable options.
Cleaning has proven to give the best returns when selling your home.
Conclusion
It can be a daunting task preparing your home for sale. However, as previously discussed, not all renovations will give you the return you're looking for. To be honest, a potential buyer may or may not like the changes you make to the kitchen or bathroom. Or, they may not even like the paint color you chose.
On the other hand, window cleaning and sprucing up other areas has a subtle and drastic effect in making the house more appealing overall. It improves the feeling of the home. Home buying is not only practical, it's also emotional. So, maintain the cleanliness of your home and you'll get the biggest returns.
Your friends at West Coast Window Washing would be happy to help you get the most for your sale. We offer many cleaning options including window cleaning, gutter cleaning and solar panel cleaning.
Let us get you the biggest bang for your buck with one or more of our cleaning services. Call us at (858) 213-5736 or request a visit online.